Fishing lures
Description
The Yellowfin Bream also known as Silver Bream, Sea Bream, Black Bream and Eastern Black Bream. Yellowfin Bream have a silvery to olive green body colour, varying from silver coloured fish in coastal waters to darker in estuaries. Their pectoral, ventral and anal fins are yellowish. Growing to approximately 65cm in length and about 4kg in weight. Most commonly caught by anglers up to 1.2kg
Video by: Connor Duffy
Full video here: Sight Casting Big Bream on the Shallow Flats
Distribution
From Townsville in Queensland, New South Wales to the Gippsland Lakes region in Victoria. Yellowfin Bream inhabits headlands, estuaries, rocky shorelines, wharves, pylons, oyster leases, sandbanks, surf beaches, rock walls and just about any place in between you can wet a line.
Tackle
Light tackle & Fly rod
Lures
Surface & Deep Diving Small minnows, flies and Soft plastics
Best Lures
Popular bream lures include Jackall chubbies, Berkley gulp plastics, Squidgie plastics, Ecogear blades, vibes, small diving minnows, etc.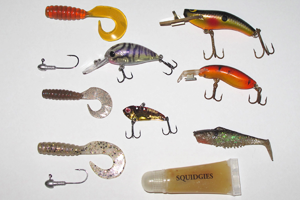 Baits
Live yabbies, beachworms, prawns, pipis, fish pieces or strips, whole small fish, chazzbait, bloodworms and sandworms, crabs, mullet gut and whitebait
Yellowfin Bream Size and Bag Limit
Please Note: Bag limits, minimum and maximum lengths are subject to change and review by your State Fisheries Department.
Dusky Flathead
 is also known as Flattie, Lizard and Frog. The Dusky Flatheads Colour varies with location fish caught in sandy areas are light brown in colour whereas fish caught on muddy or weedy areas are often dark brown with a greenish tinge dark bars are often visible across upper body. Dusky Flathead is easily distinguished from other flatheads by the distinctive black spot circled in blue on their tail fin.
The Dusky Flathead is the largest of all Australian flathead. Most commonly caught between 40cm and 60cm, however it can reach 1.2m and weighing up to 15kg.
*** Please Note all Dusky Flathead over 60cm are females and should be Released ***
Dusky Flathead Distribution
Queensland, New South Wales and Victoria
Where to fish
Dusky flathead inhabit estuaries from the river mouth right up to brackish water between the depths of 1-20m and to a lesser extent beaches and headlands adjacent to river mouths. They prefer a soft sand or mud substrate but quite often hang around patchy sand, rock and weed. Focus your activity along the edges of channels, drop-offs & around weed beds on sandbanks
Recommended Lures and Tackle
Tackle
How to target
Duskies will readily take live baits and pretty much anything else you can think of but arguably the most enjoyable and sporting way to target them is on lure. You need an outfit that will maximise casting distance allowing you to cover more ground per cast, and a variety of soft and hard-bodied lures for different applications. Starlo and Bushy revolutionised the soft plastic phenomenon with the invention of the squidgie and to this day soft plastics are the preferred choice amongst many top anglers so give them a go next time you're out.
Rigging for bait fishing
Live fish: Larger duskies will usually engulf livies whole and sometimes bite you off so use a heavier leader of around 20lb and 2ft in length. Use a suicide or octopus style hook and as small a sinker as possible running freely above the swivel allowing the bait to swim around somewhat naturally.
Other bait: Similar to above but run the sinker between the hook and the swivel for better bite sensitivity. Choose a hook to match your bait choice and reduce leader strength to 10-12lb.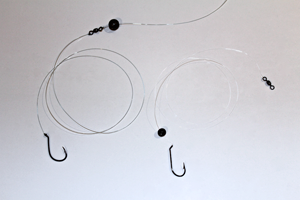 Bait fishing rigs – Live fish left, other baits right
Whiting(Sand Whiting | Sillago ciliata) 
The Sand Whiting is also known as Summer Whiting and Blue Nose Whiting. The Sand Whiting is silver above on the upper back and flanks this fades to a white belly area. The anal and ventral fins are yellow in colour and the soft dorsal is covered in rows of small dots. Other distinguishing features of the Sand whiting are the blue shade to the snout area as the whiting ages and also a dark patch at the base of the pectoral fin.
Sand Whiting are one of Australia's largest whiting and can grow to more than 1kg but fish to about 500g are more commonly caught.
Distribution
Queensland, New South Wales and Victoria
Tackle
Light Tackle.
Lures
Small jigs, Small Minnows. Soft Plastics and well presented fly.
Baits
Yabbies, Prawns, Soldiers Crabs, Mussels, Pipis, Beach Worms, Blood Worms and Mud Worms.
Sand Whiting Size and Bag Limits
Please Note: Bag limits, minimum and maximum lengths are subject to change and review by your State Fisheries Department.
The Australian Snapper Pagrus auratus are also know as Squire, Old Man Snapper, Pink Snapper, Pinkie, Red Bream, and Nobbie.
A Snapper's colour varies from reddish pink to reddish bronze on the upper sides and silver white belly. Juvenile snappers' upper body areas are covered by small neon blue spots which fade as snapper mature. Older fish may develop a hump on the top of the head and more dominant in males. Snapper mature at 3 years of age living for around up to 40 years years and grow up to 130cm at around 20kg.
Habitat Adults are inhabit near offshore reefs and deep water headland areas. Juveniles inhabit estuaries, bays and shallow coastal reefs.
Snapper are found along the Queensland, New South Wales, South Australia, Western Australia and Tasmanian coasts to depths up to 200m.
Snapper will take a wide variety of lures. Soft plastics would be up there with the most effective methods. Examples include Squidgie whip baits, Zman Jerk Shads and Zman Grubs. Snapper will also take hard and soft vibes, trolled hard body lures and even metal slugs.
Barramundi fishing is a hallowed activity in Australia, as it requires land-based anglers and boaties to travel to the northern reaches of the country. The sheer challenge of catching a barramundi makes it oh-so satisfying to catch.
Choose a 6 to 7 foot rod with medium action and soft tip

Always use mono line when live baiting and I also prefer to use a spinning reel, around 600-700 in size.

 Leave the rod in the holder and let the fish hook itself.
Casting | Shallow bib, 4-6 inches long
Trolling | 5m – 8m depth range, 5-7 inch long lures
Jigging | Soft vibes such as Fish Candy, hard vibes such as the Balista Juggernaut and paddle tail plastics such as the Keitech swing impact fat and Z man.
Australian Bass are prized and exciting recreational sportfish. Australian Bass are often olive-green to bronze coloured along the back, becoming cream or silvery along the belly, the fins are mostly dusky brown to black. The tips of the anal and pelvic fins are white. Juvenile fish under 12cm long are banded and have a dark blotch on the gill cover. Australian Bass grow to 60cm and can weigh up to 4kg, although more frequently caught at around the 35cm or 1kg mark.
Where To Fish
Australian Bass are found in fresh and saltwater, it inhabit the upper reaches of coastal rivers and lakes between the Sunshine Coast QLD south to Wilsons Promontory VIC. They spend most of the year in the fresh but move down into the estuary during winter to breed. They are also stocked in a number of impoundments. When targeting Bass look for areas of structure such as; fallen trees, rock bars, thick vegetation and deep pools generally adjacent to the deeper edge of the river.
There are 3 main ways to target Bass including:
1) throwing sub-surface lures around structure
2) surface luring
3) fishing well presented live baits.
Bass can be taken on a variety of live offerings but arguably the most enjoyable and sporting way to target them is on lure. Whether targeting Bass by foot or by boat, find a promising piece of structure and approach it with stealth. Get yourself within casting distance but no closer and cast towards the structure, working your lure away from it. If you hook up go hard and keep the fish's head moving forward.
Rod & Reel
To get more enjoyment out of your Bass fishing it's best to adopt a finesse approach with a lightweight, light line outfit. Go for something like a 2-4kg 7-foot graphite spin rod and a 1000-2500 size reel to suit.
Line and leader
Lure: 4-6lb braid. 1.5m 5-8lb monofilament (surface) or fluorocarbon (sub-surface) leader. Fish heavier if you encounter regular bust-offs.
Bait: 4-6lb monofilament & 0.5-1.0m 5-8lb fluoro-carbon leader. As above regarding bust-offs.
Terminal Tackle
Lure fishing: Trebles – Decoy YS 25's, Owner ST-11's, or VMC. Jigheads – 1/32 – 1/4 oz to suit depth.
Bait fishing: Size 1-6 hook, size 4-8 swivel, size 0-2 ball sinker but limit weight where possible. Un-weighted if using live insects.
Best Lures
Surface: Jitterbugs, Crazy Crawlers, Megabass baby Griffon Zeros, Lucky Craft NW Pencils.
Sub-surface: Most Vibe, Jackall, Megabass, spinnerbaits, Ice jigs or blades. 80mm Bloodworm Squidgie Wrigglers.
Best Bait
Best baits are live insects, yabbies, garden worms, grubs or any crawlies found in the area.
Rigging for surface luring
The trend amongst anglers targeting Bass on lure would have to be braided line but monofilament also has it's advantages. Attach the mainline to a 1-2m fluorocarbon or monofilament (for surface luring) leader with a joining knot such as an Albright or Double Uni. Attach the leader to the lure with a loop knot such as a Lefty's Loop, Perfection Loop or Rapala Knot. This will optimise its action and allow the lure to swim freely in the water.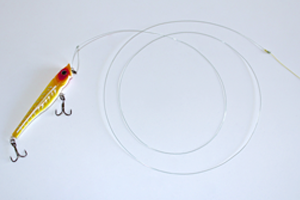 Rigging for bait fishing
Rigs vary between anglers and states but a simple rig that works consists of a size 1-6 hook, 0.5-1m fluorocarbon leader, and a running ball sinker either between the hook and swivel or running freely above the swivel. When using bait use as little weight as possible. In some situations no lead is possible, which is a great way to present live insect baits on the surface. Bait up with a live cicada or garden worm and you're in business. When preparing the bait be sure to expose the point of the hook.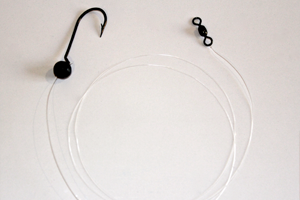 Size
Maximum of 16 kg and 1.2 m in length.
Distribution
Tailor are found from Fraser Island in Queensland around the coast to
Point Quobba in Western Australia (including Tasmania).
Lower numbers are generally found around southern Australia.
Tailor is also known as Chopper, Bluefish, Skipjack, Skippies, and Tailer.
The Tailors colour is greenish blue along the back fading to a silvery belly area. Tailors fins are translucent pale green with yellowish tinge. The Tailors distinctive features are the lower protruding jaw passing the upper jaw which is filled with razor sharp teeth and the compressed elongated body down to a powerful large forked tail
Most commonly caught up to 4kg however can grow to over 1mtr and more than 10kg.
Distribution
Queensland, New South Wales, Victoria, South Australia and Western Australia, occasional caught as far south as Tasmania.
Tackle
Light Tackle to Medium tackle and wire trace.
Lures
Minnow Style Lures, Surface Poppers, Skirted Lures, Chrome Slices, Spoons and Jigs.
Baits
Garfish, Pilchards, Yellowtail, Slimy Mackerel, Tailor, Hardyheads, Whitebait and Mullet.
How to Catch: 
Tailor fish are deadly hunters with razor sharp teeth. 
Catching tailor can be a tough challenge for even the more experienced anglers. 
Bait – Tailor will accept baits of horse Mackerel, Western Australia pilchards, sea garfish, and fresh strips of slimy Mackerel and mullet. The best lures to use in order to catch Tailor would have to be surface poppers, as Tailor love these and will strike with spectacular and explosive power. You could also try minnows, chrome spoons and leadhead jigs. 
Rod and Reel – Fishing for Tailor in bays and estuaries requires a medium to fast taper boat rod with a sidecast reel or eggbeater reel. Fishing off the beach requires a surf rod and sidecast reel however a good quality spinning reel can also be used. 
Line and Tackle – Line should be 5-7kg, with a heavy monotrace of 10-15kg. Hooks should be 4/0 to 5/0 ganged in flights of 3 to 4.
Luderick
Luderick inhabit estuaries and coastal waters at depths up to 20m, between southern QLD and TAS. This guide focuses on targeting Luderick in near shore ocean environments, but the same principles apply to estuary fishing. In the ocean, Luderick school in shallow rocky areas adjacent to wash, around headlands, near shore islands and reefs. Winter is a good time to target them in areas where they congregate daily, year after year.
How to target
Fish a suitable location where your berley will hold without being swept away in the current. Anglers who target Luderick fish with long fast taper rods, around 8-9ft when fishing from a boat up to 12-13ft when fishing off the rocks. Throw in small hand fulls of berley regularly. Position the float stopper so that your bait sits about 400mm off the bottom and weight your rig so that the float remains upright with the top 1.5 inches out of the water. When the float disappears, count to 2 or 3 and lift the rod firmly rather than striking hard. Play your fish out rather than skull dragging to avoid straightening the hook.
Rod & Reel
When fishing for Luderick you'll need a long rod with a sensitive tip, strong butt, and a big stripper guide. A longer rod aids in maneuvering the long rig during casting and retrieving and also when playing fish around the rocks. A light 8-9ft rod is suitable for boat fishing while a slightly longer 12-13ft rod is more appropriate off the rocks.
The traditional reel choice would be a small 4-5 inch centrepin or sidecast Alvey, however it depends on personal preference, a small 2500-3000 size spin reel will do just fine. Choose an outfit that is balanced, lightweight and feels comfortable for long periods of use.
Line and leader
Line: 6-20lb braid or 6-10lb mono.
Leader: 4-10lb fluorocarbon (lighter than mainline).
Best Lures
Fly: Weed imitation flies.
Best Bait
Green weed or cabbage weed. Alternatively nippers, prawns, blood worms, cunji or bread.
Hints and tips
Luderick are caught in estuaries and near shore waters around break walls, rock outcrops, headlands and shallow reefs. Fishing for Luderick is an art form. Among the many trade secrets, anglers use fresh weed and berley to bring home a good feed of Luderick.
Fish a location and tide that will see your berley holding in the one spot. Berley should be damp and consists of finely chopped weed and sand.
Never fish a building tide or swell in the ocean. The end of the run out tide is the safest and also fishes very well.
A long 12ft landing net is required from the shore. Shorter nets are fine in the boat.
Rock fishing is a dangerous sport that claims many lives each year. Never fish alone, fish the ebbing tide, assess the conditions before fishing, and never fish in large swells or dangerous conditions.
Jeff qiu, Marketing manager
Kmucutie International Co,.Ltd
Room 1205,zhongmei business building block A #28